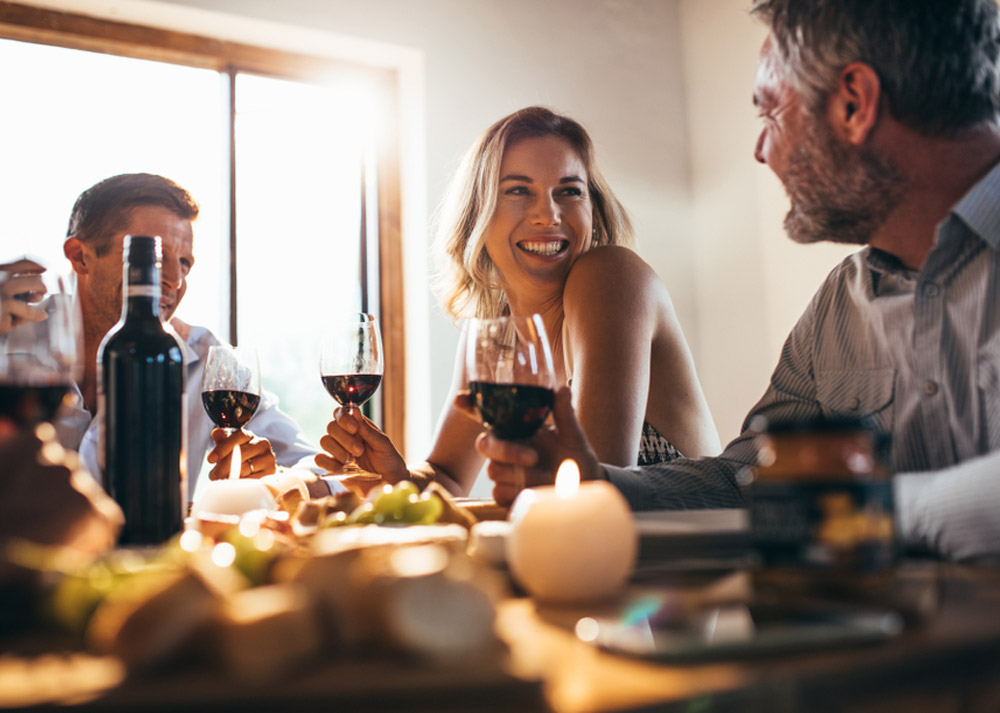 Are you thinking about buying a wine cooler? Or perhaps a wine cabinet? What is actually the difference between them? And what is actually the difference in serving temperatures and aging temperatures when talking about wine? 
In this guide we have listed what you need to know before buying a wine cooler or a wine cabinet. Whether you want to age wine or store wine, there are different variants of wine coolers and wine cabinets to suit just what you need. In this guide we give you advice and tips so that you can make the best well-considered purchase.
To store or age wine – wine cooler or wine cabinet?
Looking after your wines is becoming ever more popular and there is a lot to gain by storing and aging your wines in the right way. In addition to a functional advantage, it is also an interior furnishing that can enhance an entire room. When you store your wines separately from other foodstuffs you also protect it from odours and unnecessary vibrations, which in turn can ruin your wine and its quality.

The purpose of a wine cooler is to store your wines at the required temperature so that they are always ready to be served. In order to offer the best possible temperature for your wine collection there are wine coolers with from one to three adjustable temperature zones. If you only want to store and serve one type of wine, a wine cooler with one temperature zone is recommended. If you want instead to serve both red and white wine at the right serving temperatures, a wine cooler with two temperature zones is the best alternative. There are also wine coolers with three temperature zones, which provide space for both red and white wine, and also champagne. Look for a wine cooler with a DualZone or Multizone label if you want at least two temperature zones.

If on the other hand you want to store your wines for a longer time, a wine cabinet is the right choice for you. A wine cabinet offers an environment similar to a wine cellar, with optimum conditions for longer storage of wine. A wine cabinet maintains a temperature of 12 degrees, which is the perfect aging temperature for all types of wines. The environment and the function and format of the wine cabinet are also based on the five golden rules for aging wine – constant temperature, no vibrations, no light, no odour and a suitable humidity.
Now you are perhaps thinking that you would like to have both a wine cooler and a wine cabinet? You are not alone in this, and that's why there is a multifunctional wine cabinet. A multifunctional wine cabinet has both cool and warm spaces for serving, while also providing the right conditions for aging wine. This alternative is popular with restaurant owners, since it allows them to both age and serve their wine collection.
The right size of wine cooler
The main things to think about when it comes to the choice of size are capacity, space and function.

Capacity: When talking about capacity you have to think about how big the wine collection is to know how big the wine cooler should be. Or in other words, how many bottles do you have? Does the purchase of a wine cooler or wine cabinet mean that you will be increasing your collection? For a wine cooler to function optimally it should be filled to at least 75 per cent of its capacity. This is because the bottles of wine help the cooler to maintain the right temperature, and that it needs bottles to work with for optimum functionality.

When thinking about capacity, you should also consider what your bottles look like. The capacity that describes the number of bottles a wine cooler or wine cabinet can handle is in most cases calculated for 75 cl Bordeaux standard bottles. If you have larger Bourguignon bottles you should consider that the wine cooler can accommodate 25 per cent less than the given capacity of the wine cooler.

Space: It is also important to take into consideration the space where the wine cooler is to stand. Have you got enough room for the wine cooler? If you have thought of investing in a free-standing wine cooler or wine cabinet, you must have at least 10 cm of free space on each side for the ventilation to work. If you have an allocated space in a tall cabinet or under a counter, these are the measurements that determine the size of the wine cooler.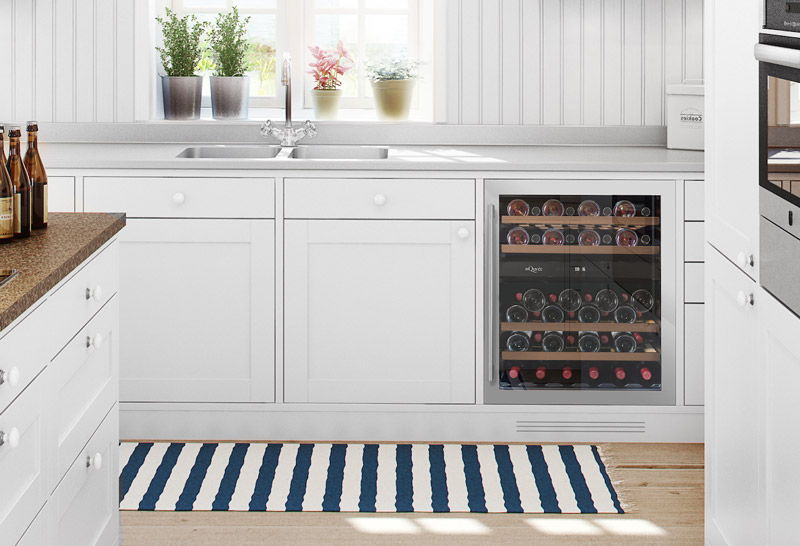 When deciding which room your wine cooler is to stand in it is important to take the noise level into consideration. A wine cooler makes a noise just like other white goods, which means a new noise in the home. Putting a wine cooler in the bedroom is therefore not a very good idea if you know that you are sensitive to noise. If you want to place a wine cooler in an area sensitive to noise, a quiet model is the right choice for you.
Function: Will you be storing both red and white wines? Perhaps even champagne? Wine coolers come with one to three adjustable temperature zones. Smaller models often have only one temperature zone, so if you know that you want at least two temperature zones to store both red and white wine you need to go up in size. Wine cabinets maintain a temperature of 12 degrees, which is suitable for aging all types of wines, so you will not need more zones if you are thinking of aging different types of wines.
The right door – Glass or Solid
Most wine coolers have a glass door to offer an attractive and exclusive impression. There is often also lighting to maximise the effect. If you want to have a glass door it is important that it has UV protection and that the lighting is LED. UV protection keeps out UV light, which in turn can have an adverse effect on the taste and quality of the wine.
Wine cabinets most often have a solid door to offer the same environment and function as a wine cellar. A solid door that keeps out all the light is the safest alternative for wines that are going to be aged for a long time. It is also possible to buy wine cabinets with glass doors, and just like with wine coolers it is important that the door is UV protected.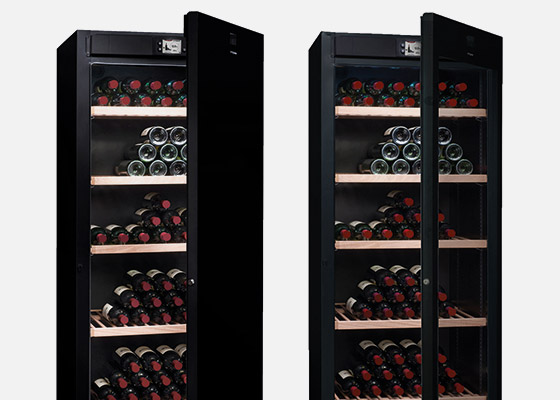 How to keep the wine in place with the right shelves
You keep your wine in place with the help of shelves. Shelves can be bought in several different models and materials. In addition to the standard flat shelves, there are also display shelves if you want to show off your wines. Display shelves show your wines at an angle for a clearer view of the type and bottle.
It is important to think about which material to choose when it comes to shelves. From an aesthetic perspective you could say that metal shelves are the most stylish alternative in comparison with wooden shelves. Nevertheless wooden shelves have functions that metal shelves do not, they dampen vibrations and provide stability for the wine bottle. Make sure that wooden shelves are made of untreated wood so that they do not emit an odour. Otherwise it is enough for the wine cooler to have a carbon filter to keep it fresh.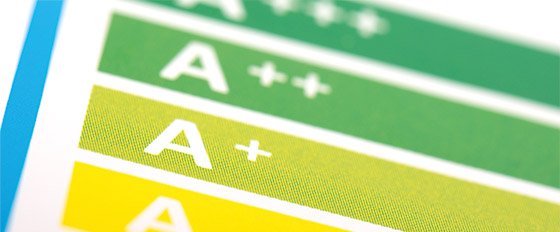 Why not choose an eco-friendly wine cooler? Both from an environmental and economic perspective it is worth while choosing an energy-saving wine cooler. The most energy-saving wine coolers are labelled A or A+ and these are the ones you should look out for if you want to think green and sustainable.
Build-in under a counter, in a tall cabinet or free-standing? Choose the right model of wine cooler
When it comes to the positioning of your wine cooler there are three alternatives to choose between – free-standing, built-in and integrated.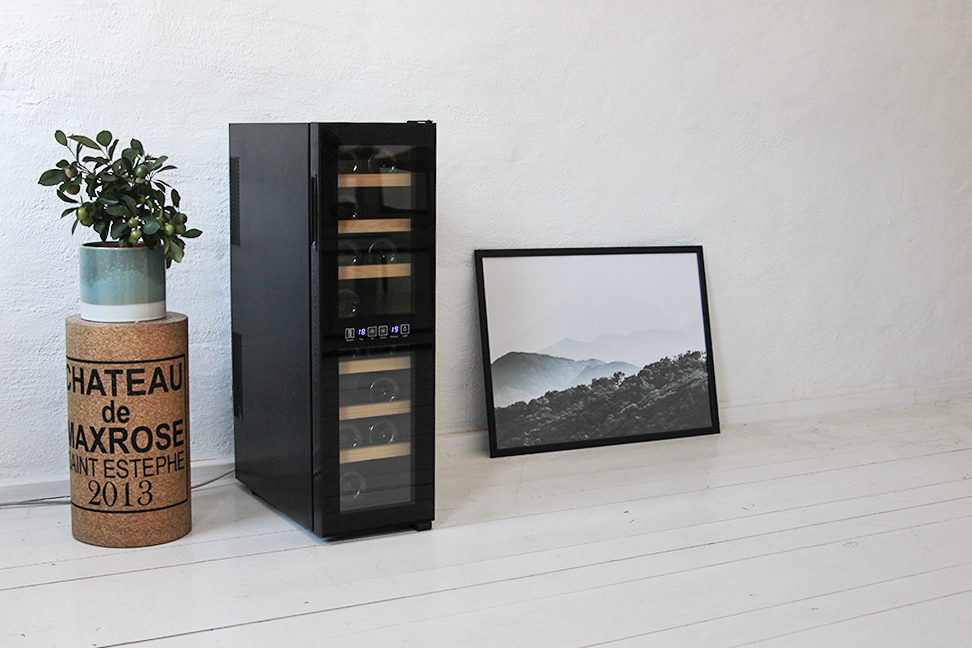 Free-standing wine cooler
A free-standing wine cooler is the perfect alternative for you if you don't have the possibility, or want to, build-in your wine cooler. A free-standing wine cooler can be put anywhere in your house, give your imagination a free rein. But remember that the wine cooler must have 10 cm of free space on each side for the ventilation to work.
If on the other hand you want to build-in your wine cooler, there are two alternatives: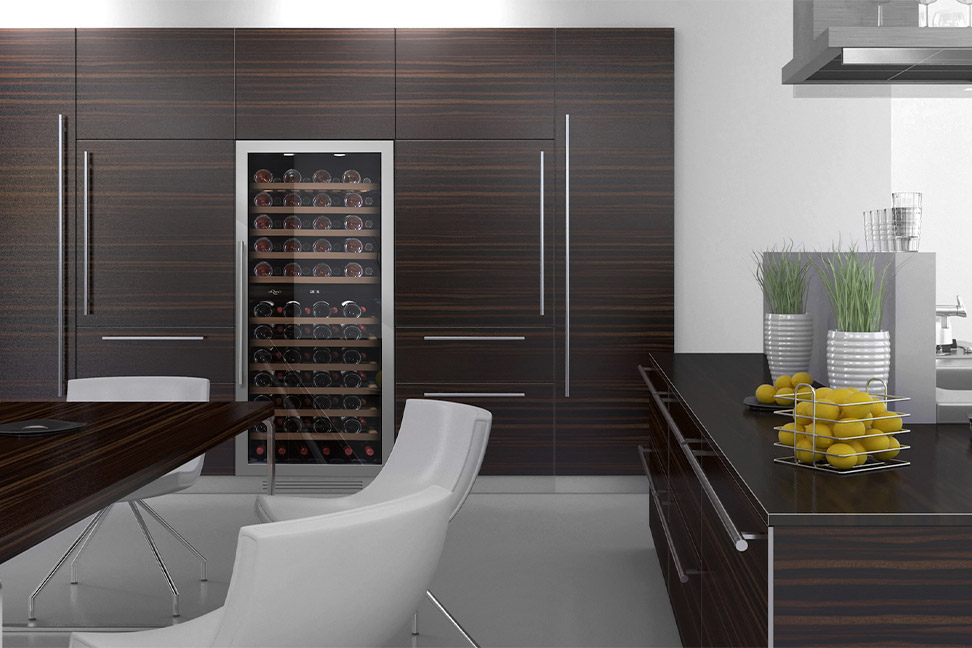 Built-in wine cooler
 A built-in wine cooler is a popular alternative when it comes to installing the wine cooler under a counter or in a tall cabinet. The wine cooler does not need to have free space around it like a free-standing model, all the ventilation takes place from the front. For an extra stylish impression you can also on some wine coolers replace the skirting to a skirting that matches the rest of the kitchen.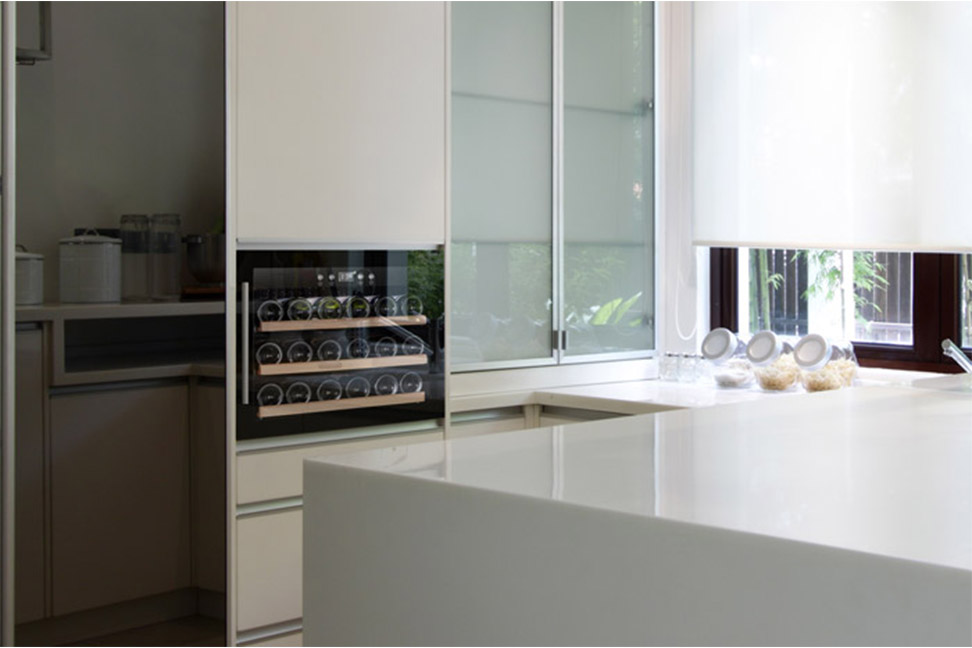 Integrated wine cooler
You can easily sketch in an integrated wine cooler in your kitchen solutions, and therefore it is a popular alternative when renovating the kitchen. The integrated wine cooler can also be installed level with your other white goods, such as a microwave or oven. Because the wine cooler is built uniformly into your kitchen it has no ventilation at the front, all the ventilation takes place from behind. It therefore needs a space behind the cooler with an opening at the top and bottom for it to work optimally.
Compressor cooling or thermoelectric cooling? Correct cooling to your personal preferences
When it comes to cooling systems in wine coolers there are two variants, compressor cooling and thermoelectric cooling. Both systems have their advantages and disadvantages, choose a system according to what is important for you. You will find the most effective cooling system in wine coolers with compressor cooling. This type of cooling works like a fridge. The disadvantage with compressor coolers is that they are sometimes experienced as noisy when the compressor comes on. It is therefore important to choose a wine cooler with a lower noise level if you know that this is a priority. A thermoelectric wine cooler is quieter, but not as effective as a compressor cooler. The cooling technique in a thermoelectric wine cooler can be compared with the system you find in a cooler box, i.e. a Peltier cooler is used to cool a larger area. Fans then help to circulate the cooling in the wine cooler to cool your wines.
Look after your wines – keep the carbon filter updated
Higher quality wine coolers always have a carbon filter to keep your wines in the best possible condition. A carbon filter serves several purposes, such as maintaining the natural ventilation, keeping out bugs, preventing foul odours, while also ensuring that it is completely dark inside the cooler. To maintain the best possible environment for your wines and to give your wine cooler the best prerequisites it is important to replace the carbon filter at regular intervals. The wine cooler's carbon filter should be replaced once a year for optimum results and functionality.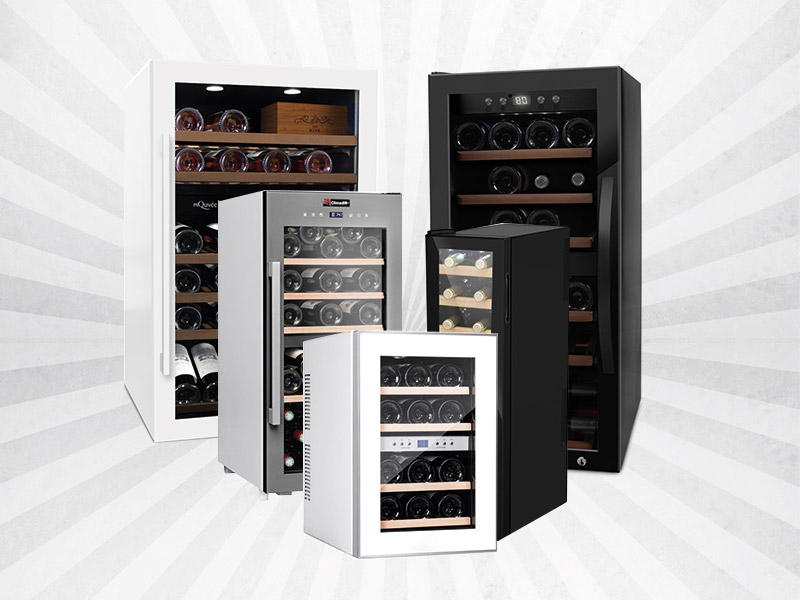 Wine cooler – Best-in-test (2020)
We test wine coolers and wine cabinets on a regular basis as they come out onto the market. Read more about our different
wine cooler tests